Flemings recognised as an InterTradeIreland "Business Ambassadors"
Flemings have been recognised as InterTradeIreland Business Ambassadors for Donegal at a special event held with Minister Richard Bruton TD, Minister for Jobs, Enterprise and Innovation on Wednesday 1st June in Dublin. Over 80 TDs and Senators were also in attendance at the event which recognised SMEs that have excelled through North-South trade and innovation.
Based in St.Johnston, Fleming Doors designs and manufactures roller shutter doors and has built a successful businesses focussing on the industrial, agriculture and residential sectors. Through InterTradeIreland's FUSION programme, the company implemented lean manufacturing principles into their production process and increased productivity.
Speaking at the Business Ambassador event, Mr. Richard Bruton TD, Minister for Jobs, Enterprise and Innovation commented, "Government does not create jobs, people and businesses do; and the role of government is to create an environment in which those businesses can prosper. I am determined to do everything I can to reduce costs, improve access to finance and encourage innovation so that good businesses can expand and create the jobs that our economy and society so badly need. If there is one thing Ireland – north and south – does not lack it is enterprising, creative, hardworking people, and I look forward to working with them to discuss what government and small business together can do to get people back to work".
Over 65 companies from across Ireland attended the event with government representatives, including Ministers of State, TDs and Senators. Local representatives in attendance on the day included Padraig MacLochlainn TD, Charlie McConalogue TD, Joe McHugh TD and Minister of State Dinny McGinley TD.
The group of InterTradeIreland Business Ambassadors were also invited to meet President Mary McAleese at an exclusive reception at Áras an Uachtaráin to mark their achievements, where she described the companies as 'Champions of the Future and Leaders of Change.'
Also speaking at the event, InterTradeIreland Chairman Dr David Dobbin said: "We have supported companies right across Ireland, in every county and constituency and we are extremely proud of the examples of enterprise and innovation that are represented by our group of InterTradeIreland Business Ambassadors. We hope that through highlighting the achievements of successful local SMEs, we will inspire other Donegal businesses to take advantage of cross-border trade and collaboration opportunities."
Fleming Coatings Information Morning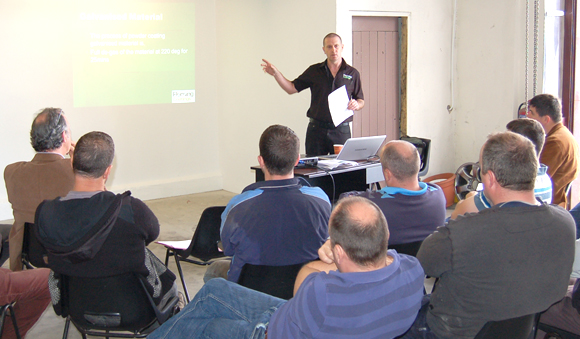 Fleming Coatings recently held a successful information morning to outline the process of powder coating and wet spray.
The emphasis of the session was to promote the importance of adequate pre-treatment of the material to be powder coated or painted and also to inform the client how coatings can be made cost effective.
Those in attendance included manufactures of gates and railings, industrial buildings and also powder coated polling booth exporters to North and South America.
If you would like more information on powder coating or wet spray….
or contact our office on Tel:+353 (0) 74 9148234.